Food Glorious Food
It goes without saying that the food in Morzine is as alluring and spectacular as the views of the mountains and the fun to be had on the slopes.
It's widely acknowledged that locally sourced, fresh, quality ingredients are the foundation of any great dish. Morzine's delicious, widely savoured, traditionally inspired menus pay homage to this standard with deliciously indulgent care, love and plenty of cheese.
There's often a comfort food lover's lean towards "prep on the spot dinners" – BBQ style pierre-chaud, (basically a big hot rock on which you can cook your own choice of meat..what's not to love?!)
And of course…ever enticing local cheeses like comté, (perfection in Gratin or Tartiflette), mellow, nutty emmenthal and gorgeous gruyère, to name just a few… Essentially, attempting to resist fondue is a massive Alpine fondon't.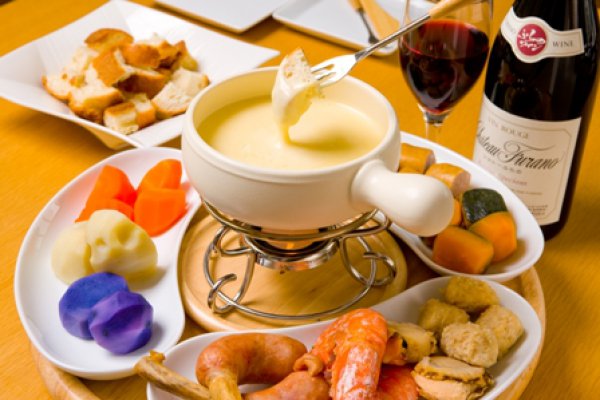 Fresh, wholesome crusty bread is dunked into a large sturdy pot and gluttonously saturated with melted gooey cheeses (different combinations and additional seasoning like garlic, chilli or on occasion, a little tipple of booze, depending on taste, chef and region). 
The food typically served in the Alpine region tends to err on the rich, indulgent side of food groupings. Obviously this is an outcome of the necessity for hot, filling meals, due to the intense weather conditions, temperatures and need for a bit of homely stodge at the end of a long day.
There's also an absolute abundance of fresh fish, brought in fresh from the coast. You'll find homage to the days when preservation of ingredients was key: Plenty of expertly made, traditional pates, smoked and dried meats, as well as several varieties of sausage.
In short, you'll never be short of something to tickle your tastebuds after a day making the most of the variety of energy exerting activities which the region is famous for. Wether biking, climbing or rambling in Summer, or challenging the slopes in Winter, you'll be indulging in, and dreaming of Morzine nosh for years to come.